MomsGetReal Guest Contributor Jennifer Lutz
Many of us have old pieces of furniture that have seen better days. Time-worn hand-me-downs or impulsive yard sale finds sometimes become glaring eyesores that can ruin the look of your home. Don't be in a hurry to relegate them to Furniture Heaven though. With a bit of paint, you can breathe new life to shabby, outdated, yet still functional, furniture pieces. Oftentimes, redone furniture becomes statement pieces that draw the most attention and conversation from your guests.
Wondering what colors to use for this painting project? Look outside and let the lovely colors of fall serve as your source of inspiration. Shades of red, orange, and yellow rouse feelings of warmth on cool days, and green imparts a sense of freshness and health to any space.
1. Red desk
A perfectly good piece of furniture is a shame to waste. Rejuvenate an old, tired desk with a fresh coat of paint and it will become the darling of any room it occupies.
Give your old desk a stunning make-over with an attractive shade of red paint. Simply polish the brass pulls so that they look brand new.
Pro-tip #1: If you're raring to try your hand at painting furniture, it's good to know a few fundamental steps. Begin by dry wiping your furniture, then wet wiping it with a non-toxic cleaner to remove waxy build-up or oily spots. Place the piece in a well-ventilated area and place newspaper or a drop cloth underneath it.
Pro-Tip#2: Smooth out rough spots with an electric sander or 200-grit sandpaper. Aside from making the surface flat and even, sanding helps the primer adhere to the surface, preventing paint from peeling off. Remember to sand along the grain.
2. Orange ombre dresser
A well-constructed dresser is a versatile item that is meant to be used for a long time. Update an old, reliable dresser by painting the drawers ombre-style, or in a series of shades of a single color. The result is an eye-catching fixture that looks perfect in a casual bedroom.
Paint the bottom drawer of the dresser with the main color. Mix in varying amounts of white paint for the subsequent drawers. If you're not very confident with your paint mixing skills, you can just head to the paint store, ask for a gradient color swatch, and request samples of each shade. Depending on the size of your drawers, the samples should be enough for two coats.
Pro-Tip#3: Apply a coat of high-quality primer with a paintbrush or foam bush and let it dry for a full 24 hours or according to the manufacturer's instructions.
Once the primer has dried, you can start painting. For hardware that you don't want painted, remove the parts or cover them with painter's tape. If you are concerned about seeing brush strokes, use spray paint. Position the can about 12 inches away from your piece and spray using a sweeping, back and forth motion. After the paint has dried, check for any spots you may have missed, then spray on a second coat.
3. Yellow chair
If you have an old, sturdy chair languishing in your garage or basement, bring it out for a little sunshine and a new paint job. With a few coats of homemade chalk paint, you can turn a beat-up brown seat into a happy, yellow garden chair. Paired with a snazzy, new fabric for the cushion, this charming chair adds a vibrant splash of optimism to any indoor or outdoor space.
Pro-Tip#4: If you want to use a paintbrush, use flat finish or semi-gloss paint since high-gloss paint tends to accentuate the flaws and imperfections of the wood. Allow the paint to dry for about two hours, and then lightly sand the furniture with fine grit sandpaper before applying the second coat of paint.
4. Green side table
Spruce up a drab, brown end table with a healthy helping of green paint. If you want a semi-dark shade of green, you can apply a black glaze on your newly repainted side table to darken it. Add a vase of flowers for accent, and this little table brings a beautiful pop of color in a neutral-hued room.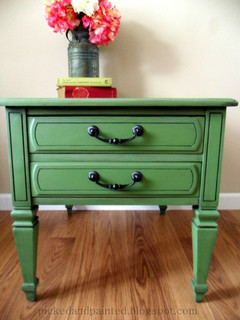 Pro-Tip#5: After allowing the paint to dry overnight, protect your furniture with a clear coat. A clear coat helps enrich and preserve the finish of high-traffic pieces, such as kitchen tables, desks, and chairs. Beginners will find water-based, brush-on clear finishes the easiest to work with. Apply the first coat and allow it to dry. Sand the piece with 220 grit sand paper before applying the second coat.
Give neglected furniture a second lease on life with a little attention and a bit of paint. You will love how such a small change can instantly liven up the look of your home.
Jennifer Lutz is the home décor expert at www.christmastreemarket.com. A collection of DIY projects can be found on the Christmas Tree Market blog at http://blog.christmastreemarket.com/category/diy-decor/.